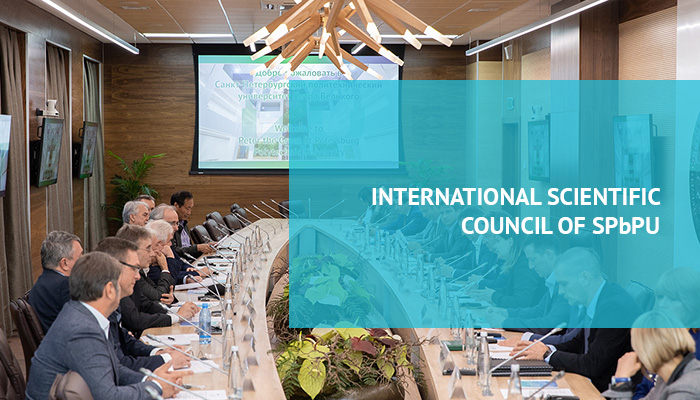 The International Scientific Council of SPbPU is a permanent collegial advisory body, established to advise on research, international, innovative and other activities of the University to advance the University's position in the international scientific community and to strengthen the University's reputation.
The main tasks of the Council:
Determining scientific agenda of the University;
Developing strategy to improve the academic reputation of the University;
Advancing the University's position within the framework of the Program for improving the international competitiveness;
Improving the reputation and ranking of the University in the global scientific space;
Attracting leading scientists to give lectures and participate in research collaborations.
The main activities of the Council:
Performing international expertise of scientific and innovative projects of the University;
Providing advice on shaping and delivering the development strategy for research and other activities of the University;
Developing recommendations to improve the national and international competitiveness of the University;
Consulting and assisting in preparation and implementation of major research and innovation projects of the University;
Developing existing relations with Russian and foreign partners and establishing new contacts;
Providing assistance for improving the scientific publication activity of the University's staff and students.
«The international scientific Council will monitor the implementation of strategic initiatives of the University, provide advice on further development, as well as solve problems to eliminate the negative results of activities, if any. The Council has a very responsible mission to create an international image of SPbPU as an advanced University of the country and the world».

Leonid A. Vaisberg
chairman of the Scientific council

Members of the International Scientific Council of SPbPU
Frank Henning
(Germany)

Mars Hasanov
(Russia)


Martin Gitsels
(Germany)


Stephan De Spiegeleire
(Netherlands)

Andrew Wachtel
(Kazakhstan)

Michel W. Barsoum
(USA)

Takeshi Egami
(USA)

Dusan Losic
(Australia)

Igor Kornev
(France)

Jūras Banys
(Lithuania)
Ning Dai
(Vietnam)
Joeri Aerts
(Belgium)